Getting back to work after a long holiday has its adjustment period. This often means exhaustion gives way to healthy eating. I've been making an effort to find easy and healthy recipes that I can use. I think I may have found that place. Food blog Love and Lemons is like a virtual cookbook. The recipes are easy, healthy and delicious. The site is also a breeze to navigate. This week, I found a great pumpkin and hummus quesadillas recipe there. Here it is!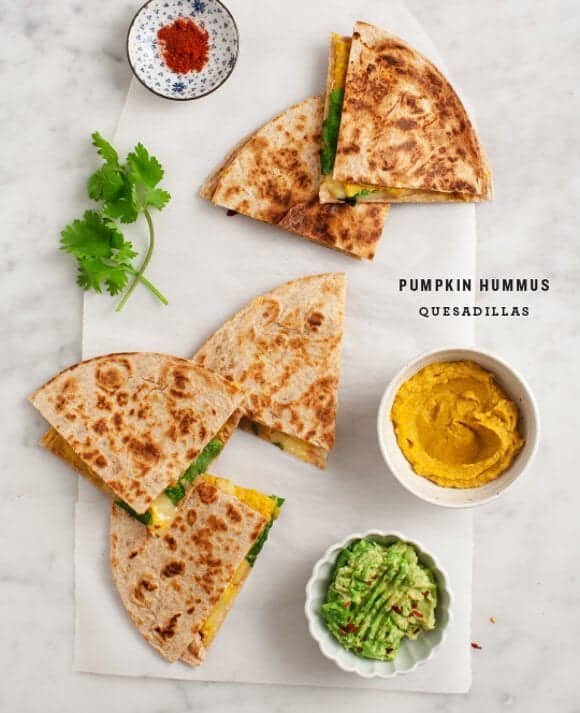 Ingredients
for the hummus: (this will make extra)
½ cup pumpkin puree*
1.5 cup chickpeas, drained and rinsed
1 teaspoon ground cumin
1 teaspoon ground coriander
½ teaspoon cinnamon
¼ teaspoon garlic powder (or part of a small garlic clove)
pinch of cayenne pepper
1 teaspoon salt (or to taste)
freshly ground pepper
juice of ½ a lemon
2 tablespoons olive oil
for the quesadillas:
4 large tortillas
handful of spinach or arugula
½ cup chickpeas
a few handfuls of grated jack cheese
simple guacamole:
½ avocado
big squeeze of lemon
pinch of chile flakes
salt & pepper
Instructions
Make the hummus by pulsing the pumpkin puree, chickpeas, garlic, spices, salt and pepper in a food processor. Add the lemon and olive oil and puree until smooth. Taste and adjust seasonings.
Assemble 2 tortillas with a big scoop of hummus, a few chickpeas, a few greens and sprinkle of grated cheese. Place 2 remaining tortillas on top.
Heat a medium skillet to medium heat. Brush the pan with a little bit of oil and cook each quesadilla for few minutes per side or until the tortillas are golden brown and the cheese is melted.
Meanwhile, use the back of a fork to mash together the avocado, lemon, chile flakes, salt and pepper.
Slice quesadillas into 4 wedges each and serve with simple guacamole.
Store extra hummus in the fridge for a few days and slather on sandwiches or eat with chips or toasted pita.
Notes:
*You can use canned pumpkin, fresh pumpkin, butternut squash or sweet potato mash. (Cook the pumpkin/squash/sweet potato until the flesh is soft. Let cool before blending into hummus).Make these gluten free by using gluten free corn tortillas.
Make these vegan by subbing vegan cheese or omitting the cheese altogether.
Nutrition Information
Serving size: 4 wedges per person